You have a person in mind that you want to to surprise with a gift they'll never forget.  It literally has their name on it!  And a special date that makes this a one-of-a-kind gift. 
Let's do this together.
I believe people are important.  Your custom bell will be carefully hand-thrown on the potter's wheel, carefully crafted, fired and then birthed as a one-of-a-kind piece of art.  It has your loved one's name and special date, whether it be a wedding, anniversary, new baby, birthday, graduation or even a memorial bell.
How to order. 1.  Select your occasion from the menu bar.  2.  On your occasion page, you'll write your inscription and select your color.  3.  Click "add to cart". It's that easy.
When I receive your order, I'll go to work to begin the first of the many steps to create your custom bell:
Throwing the clay on the potter's wheel
Trimming
Forming the handle
Bisque firing
Glazing
Glaze firing
Ribbon selected by Noonie and ringer added
Packaging
Shipping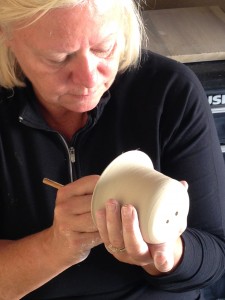 Important:  Because this is a custom work of art with several steps, please allow 6 weeks for your order to be created and delivered.
Thank you for visiting the Nooniebells website.  I look forward to providing you with  custom bells for the people you want to celebrate.  Remember this, "He who refreshes others will himself be refreshed.'  Proverbs 11;25
My thanks to Leisha Heister who has helped to inspire my return to pottery following a career in radio.
Gratefully,
Noonie
Colorado Springs, CO
noonie@nooniebells.com